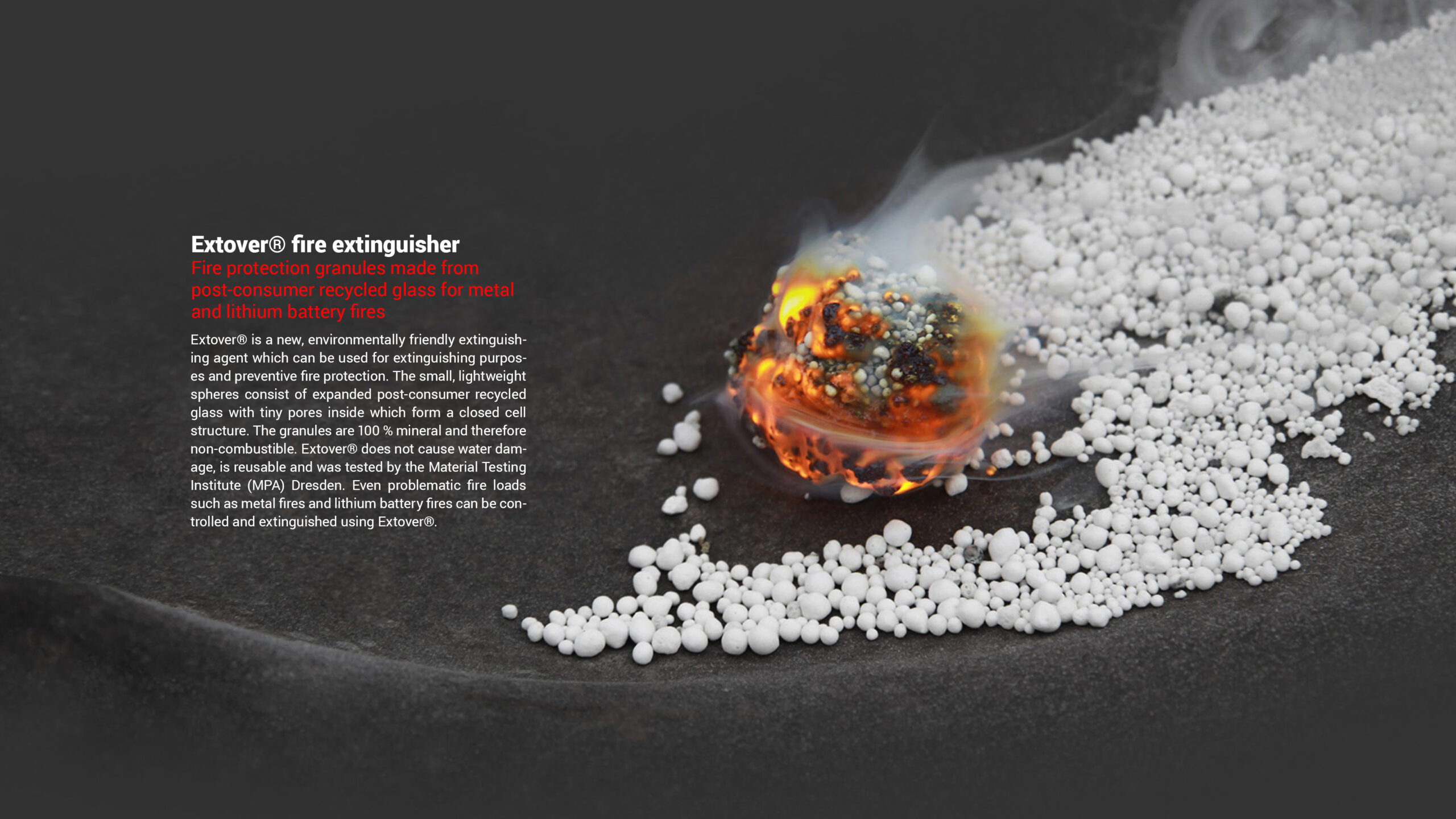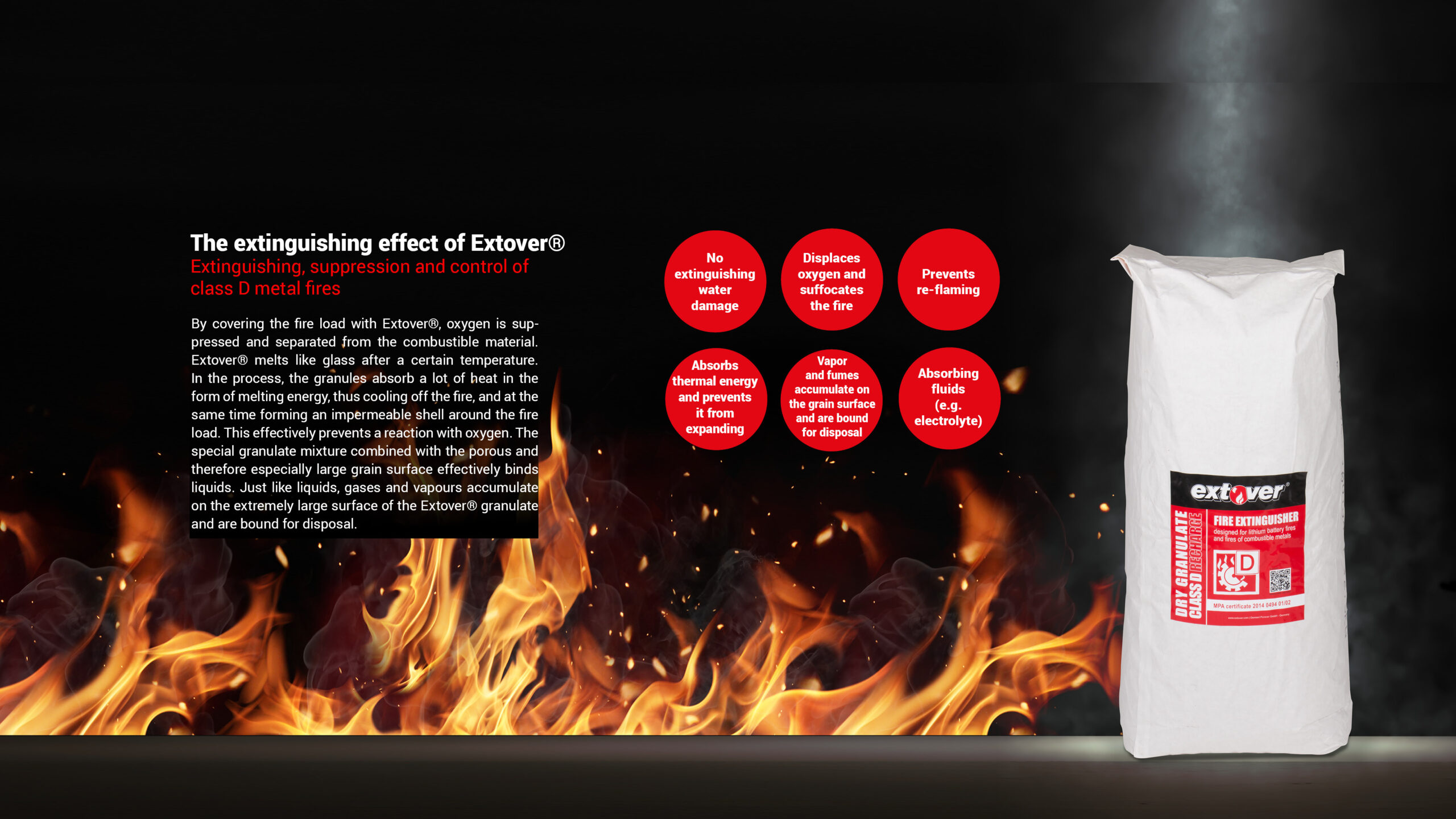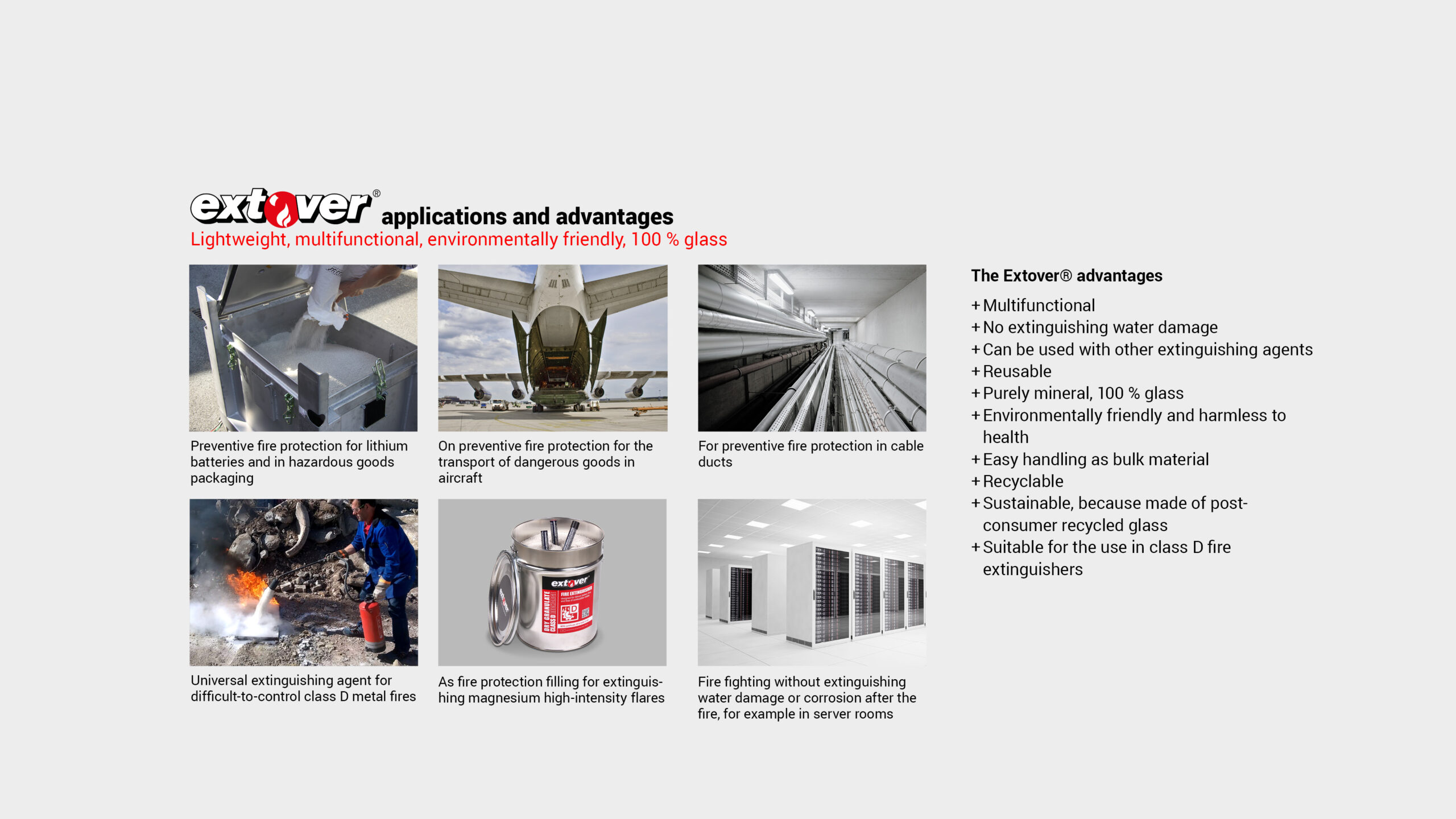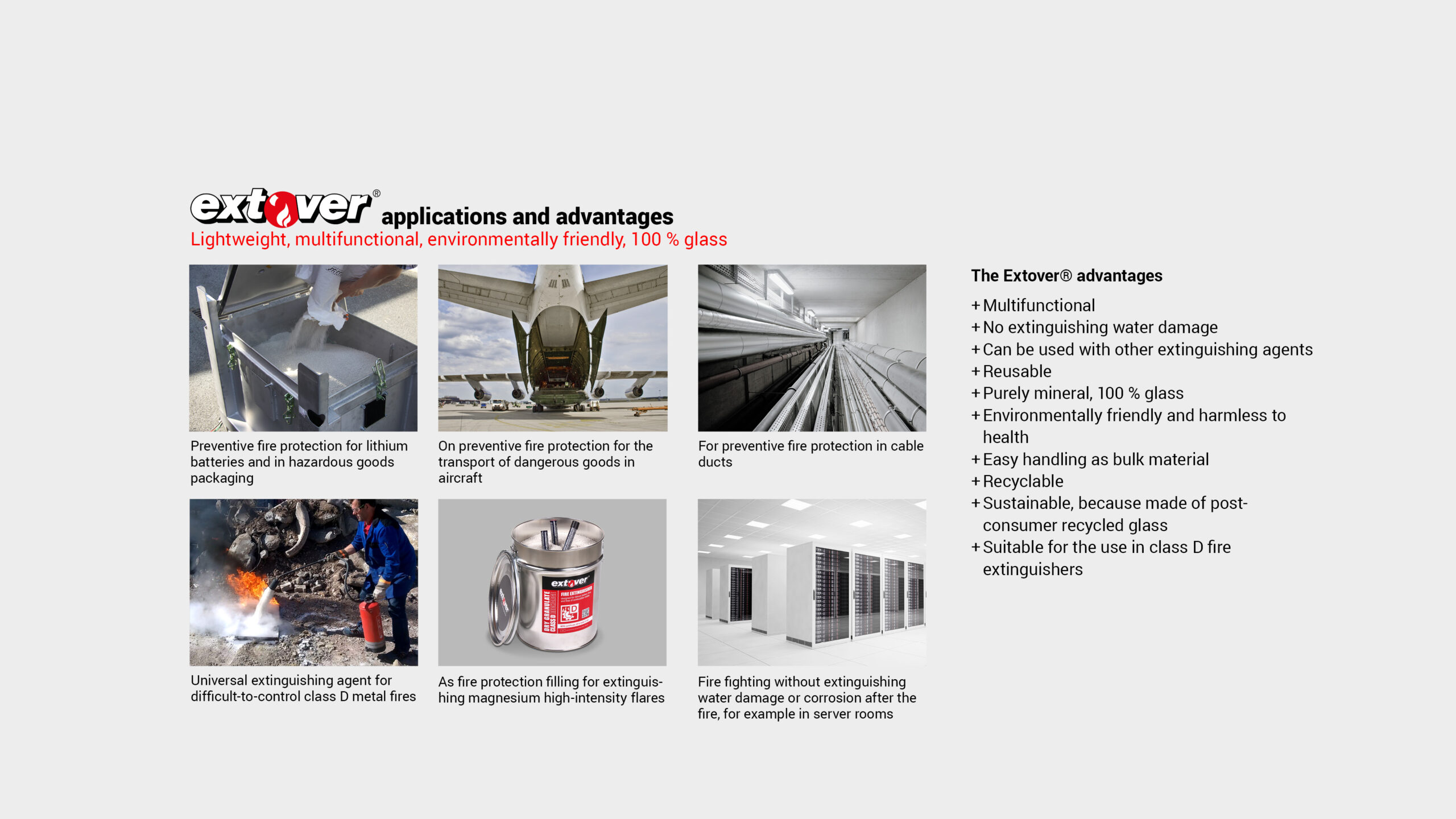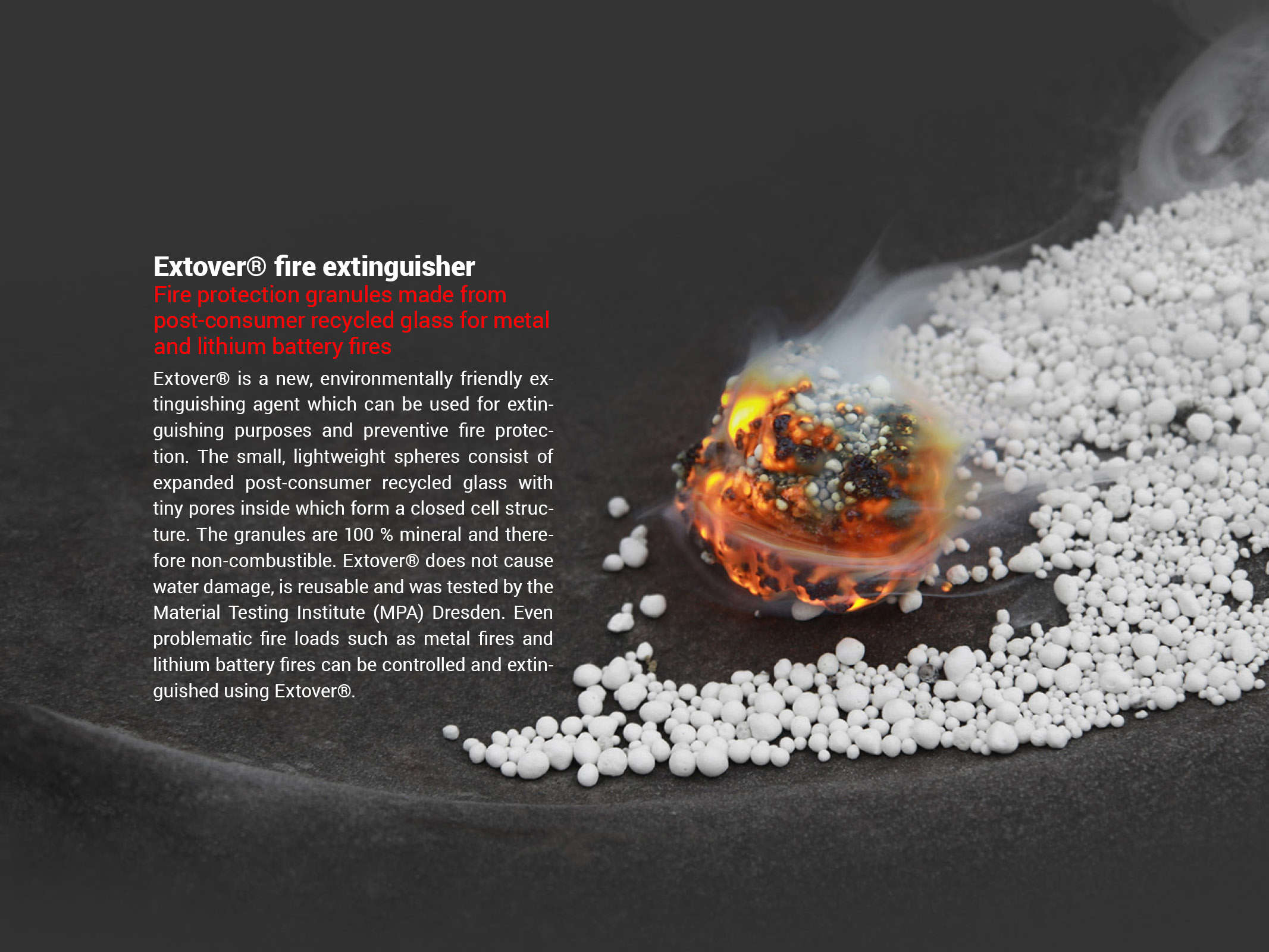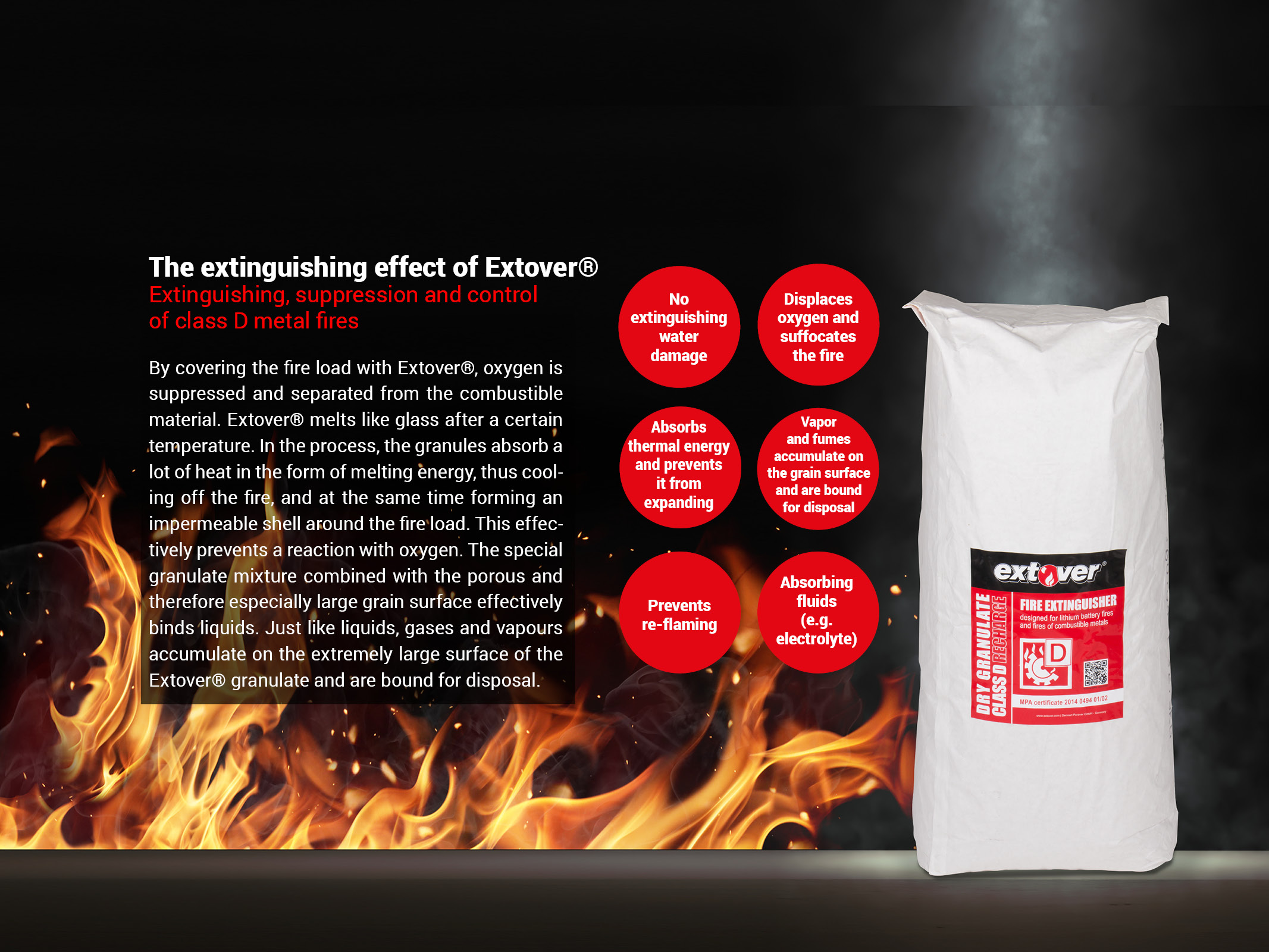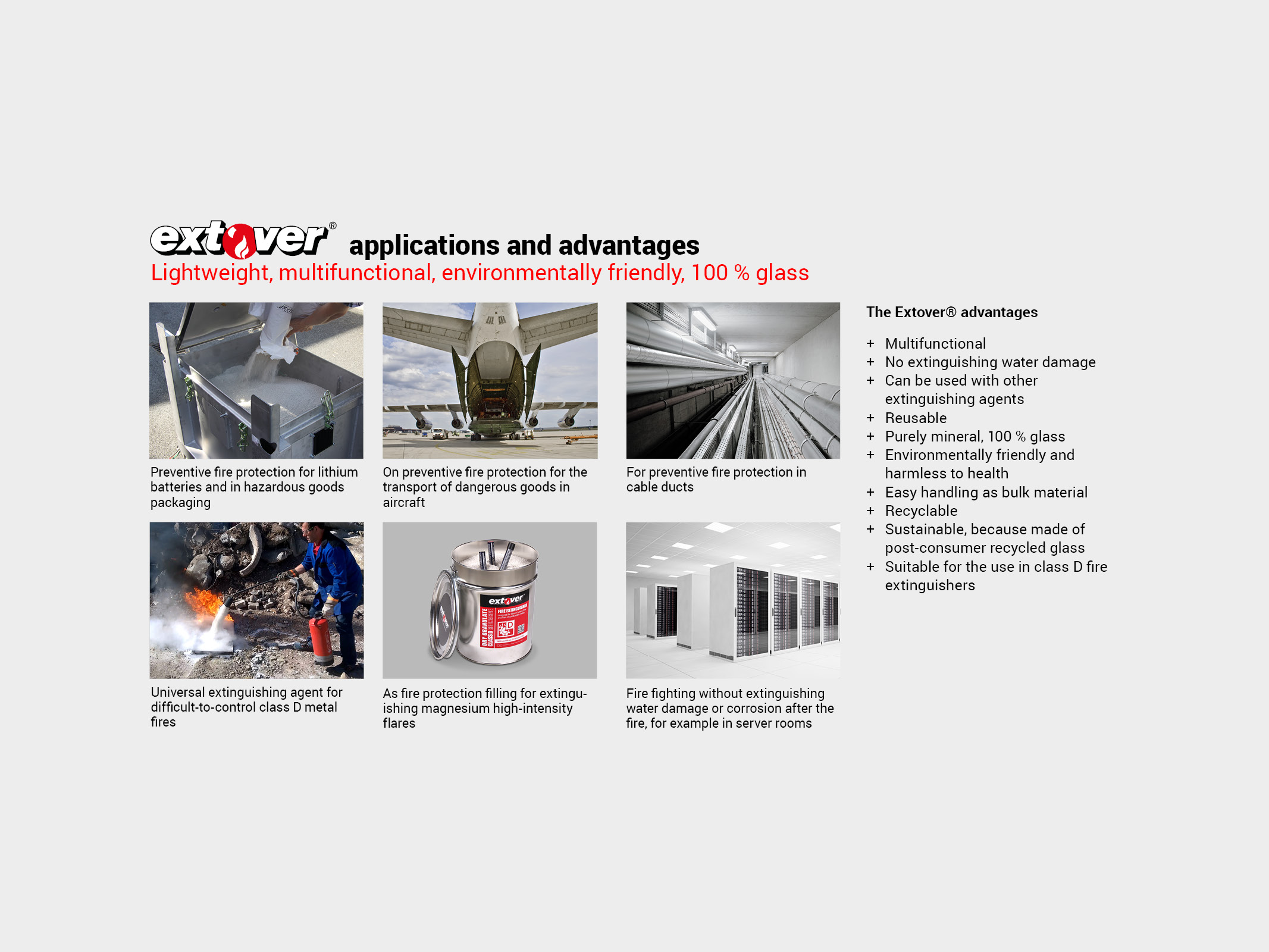 Slide 2
Extover® fire extinguisher
Fire protection granules made from post-consumer recycled glass for metal and lithium battery fires
Extover® is a new, environmentally friendly extinguishing agent which can be used for extinguishing purposes and preventive fire protection. The small, lightweight spheres consist of expanded post-consumer recycled glass with tiny pores inside which form a closed cell structure. The granules are 100 % mineral and therefore non-combustible. Extover® does not cause water damage, is reusable and was tested by the Material Testing Institute (MPA) Dresden. Even problematic fire loads such as metal fires and lithium battery fires can be controlled and extinguished using Extover®.
Slide 2
The extinguishing effect of Extover®
Extinguishing, suppression and control of class D metal fires
By covering the fire load with Extover®, oxygen is suppressed and separated from the combustible material. Extover® melts like glass after a certain temperature. In the process, the granules absorb a lot of heat in the form of melting energy, thus cooling off the fire, and at the same time forming an impermeable shell around the fire load. This effectively prevents a reaction with oxygen. The special granulate mixture combined with the porous and therefore especially large grain surface effectively binds liquids. Just like liquids, gases and vapours accumulate on the extremely large surface of the Extover® granulate and are bound for disposal.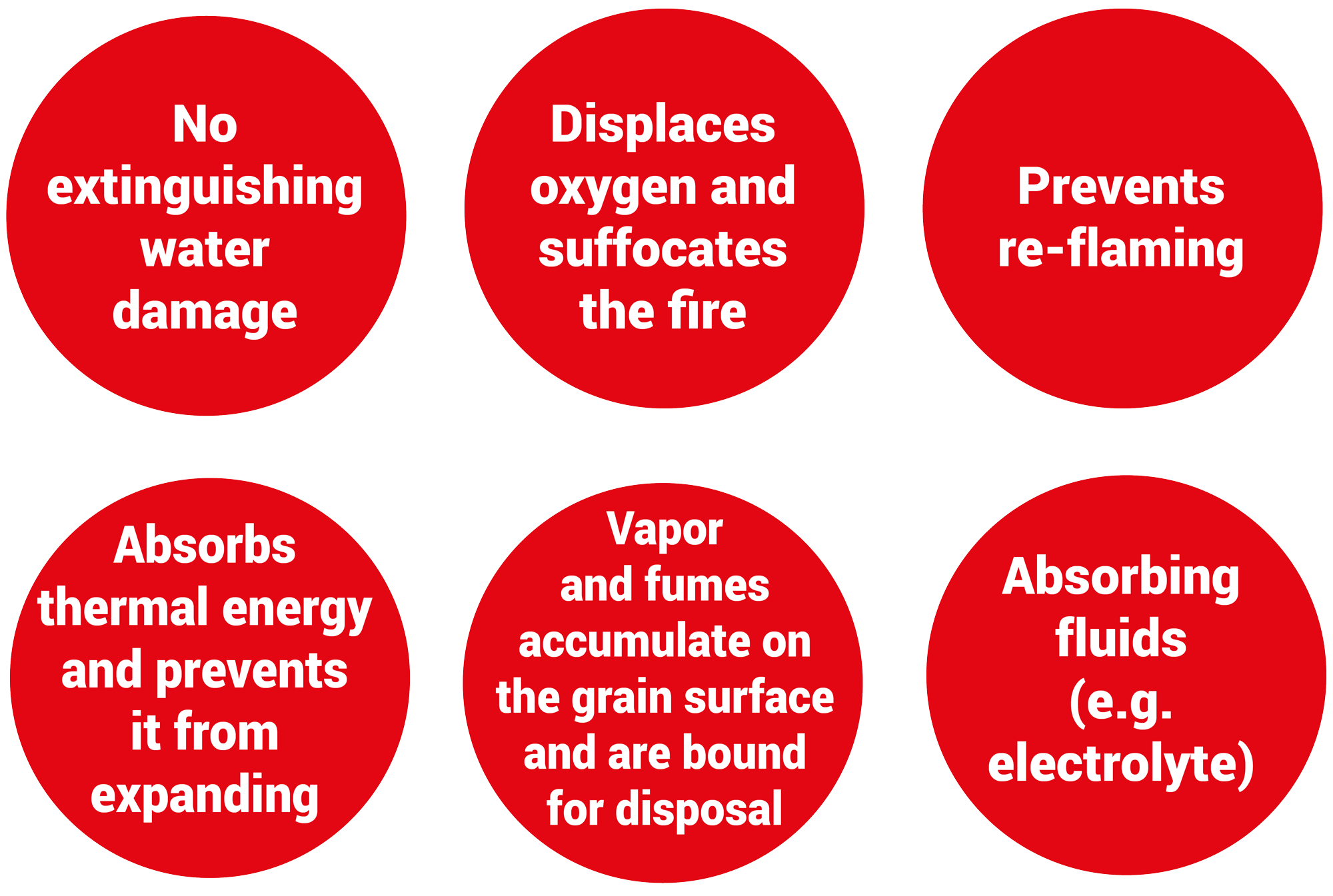 Slide 2
Extover® applications and advantages
Lightweight, multifunctional, environmentally
friendly, 100 % glass
Preventive fire protection with Extover®
Preventive fire protection encompasses all steps taken in advance in order to counteract
the outbreak and spread of fires, and to limit their impact as far as possible. In technical fire protection, Extover® can be used as a fire suppression material for permanently filling cavities, cable shafts, lines and pipes. Filling suspended ceilings in residential and industrial construction would be another application possibility.
All-round extinguishing agent
Extover® extinguishes lithium batteries, magnesium and other light metals. It is ideal in storage and transport areas. The electrical insulation capability makes Extover® ideal for server rooms, energy storage or for backfilling cable ducts. Extover® does not cause damage such as water or powder and is easy to remove.
Extover® granules used as fire protection filling in a portable special container for example to extinguish magnesium flares in soccer stadiums.

Extover® ensures a controlled combustion of the magnesium flare and forms a dense cocoon of glass around the flame.
The Extover® advantages
+ Multifunctional (extinguisher, absorbent,
filtration medium)
+ No extinguishing water damage
+ Can be used with other extinguishing agents
+ Reusable
+ Purely mineral, 100 % glass
+ Environmentally friendly and harmless to health
+ Easy handling as bulk material
+ Recyclable (if not conaminated)
+ Sustainable, because made of post-consumer recycled glass
+ Suitable for the use in class D fire extinguishers

Areas of application
• Storage and logistics
• Light metal processing
• Aviation and shipping
• RC model buildings
• Recycling companies
• Server rooms
• Energy supplies