Poraver® manufacture and
Licensee plants worldwide
Poraver® is unique throughout the world. For this reason, we promote participation as partners for licensed production and sales of Poraver® globally. Our partners not only utilise our entire product know-how, but also receive the complete production and plant technology, engineering, training and marketing support worldwide. Licence plants in Poland, Italy and Australia are already under discussion, in order to cover varoius markets.
How does Dennert Poraver GmbH support its licensees
Advantages
+ Dennert has more than 80 years of experience in the development of building materials and more than 30 years of experience in the development, production and marketing of expanded glass and its applications
+ Investment in a product of the future with its seemingly endless application and sales potential
+ Cooperation with the technology leader in the industry
+ Co-utilization of continuous process and product improvement
+ Many years of production experience guarantee maximum process stability, cost efficiency and fulfillment of the highest quality requirements
+ Proven, ecological building material technology
"Made in Germany"
+ Reference plants on two continents
+ Experience in designing and building Poraver® systems enables the license project to be completed at short notice
+ Poraver® offers planning security due to reliable key figures of the existing plants and many years of marketspecific knowledge Procurement of a worldwide network of reliable and economical suppliers for all Poraver® raw materials
Know-how-Transfer
+ Detailed tour of the plants in Postbauer-Heng and Schlüsselfeld, Germany
+ Providing a certain number of man-hour quotas for training purposes
+ Consulting services for possible process adjustments
+ Recommendation of engineering office and suppliers for technical equipment
+ Improvements to products and manufacturing
processes, unless it is a new product, are made
available to the licensee free of charge
+ Regular exchange of information on applications, market
trends and sales opportunities for Poraver®
+ Recommendations for quality management
Training of the Licensee's staff in technology,
development and sales
Territorial protection
+ Errichtung und Betrieb einer Anlage zur exklusiven Herstellung und Vertrieb von Poraver® Blähglas in einem festgelegten Gebiet
+ Vergabe von Unterlizenzen innerhalb des Lizenzgebiets
+ Kein Wettbewerb innerhalb des Lizenzgebiets durch Poraver®
+ Sollte Poraver® Neuprodukte im Vertragsgebiet lizenzieren wollen, steht dem Lizenznehmer ein Vorkaufsrechtrecht für das Lizenzrecht im Vertragsgebiet zu.
+ Markenrechte an Poraver® Schutzrechtslizenz
(Wort- und Bildmarke)
Concept of a Poraver® license plant for the annual production of 50,000 m³
Manufacturing building with the following
production stages

1) Glass processing
+ Glass storage area
+ Glass processing
+ Glass feed
+ Wet glass storage
+ Glass drying
+ Dried glass storage
+ Glass grinding
+ Glass dust separation
+ Glass powder storage

2) Granulation
+ Storage of raw materials
+ Mixer with dosing units for raw granulate
+ Green grain (raw granulate) drying
+ Grading of green grain
+ Storage of green grain
3) Expansionsprozess
+ Wärmebehandlung und Expansion im Drehrohrofen
+ Kühlung des Poraver® Granulats und Trennmittelabscheidung im Vibrationskühler
+ Puffern von Fertigprodukten in Zwischensilos

4) Klassierung
+ Siebung von Grobfraktionen
+ Windsichtung von Feinfraktionen und Abscheidung
von Trennmittelreste

5) Lagerung
+ Lagerung von Fertigprodukten in Silos
Versand und Verpackung
+ Lose Verladung in Silofahrzeugen
+ Verpackung in Säcken
+ Verpackung in Big Bags
3) Expansion process
+ Heat treatment and expansion in the rotary kiln
+ Cooling of the Poraver® granulate and separating agent separation in the vibration cooler
+ Buffering of products in intermediate silos

4) Grading
+ Screening of coarse fractions
+ Air screening of fine fractions and separation of
separating agent residues

5) Storage
+ Storage of finished products in silos Shipping and bagging
+ Bulk transport in silo trucks
+ Packaging in bags
+ Packaging in big bags

Shipping and bagging
+ Bulk transport in silo trucks
+ Packaging in bags
+ Packaging in big bags
Infrastructure
+ Connection to the power grid with transformers
+ Connection to the gas grid with transfer station
+ Connection to water supply and sewerage system
+ Compressed air supply
+ Cooling system with heat exchanger
+ Engineering workshop and equipment
+ IT infrastructure

Office and social buildings
+ Quality management laboratory
+ Office workstations for production management and order processing
+ Social rooms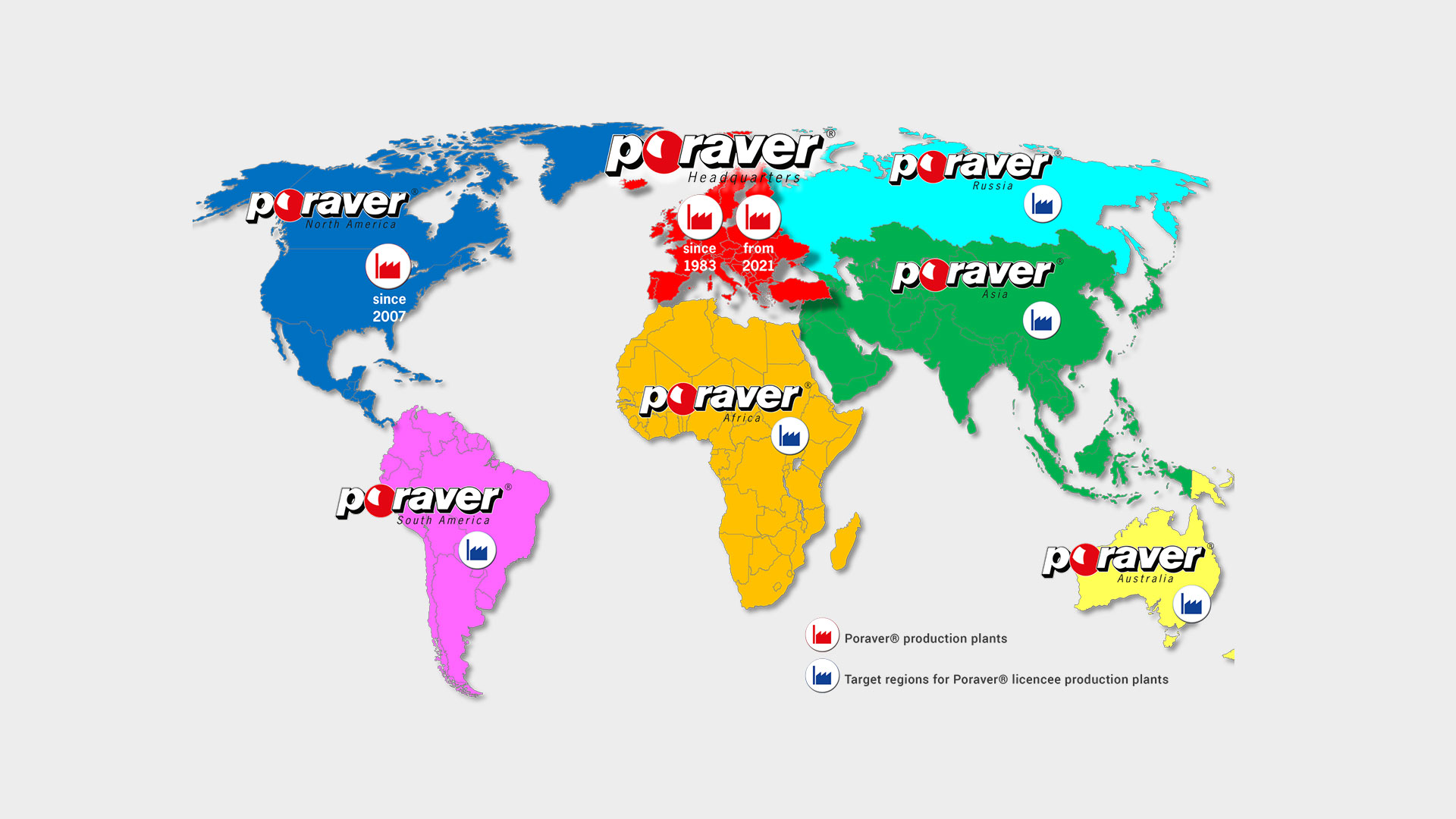 Poraver® is your partner
for license plants
Poraver® is small, light, is adapted to extremely flexible applicationspecific requirements and is available "just in time". Our corporate structure likewise does justice to this claim: Low hierarchies, short channels and quick decisions are our recipe: Talk to us!